Ryanair Introduce Further Routes to Spain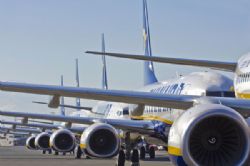 Despite the airline making a number of cuts to Spanish routes over the winter season, and threatening to pull out of bases such as Reus and Alicante altogether, Ryanair has announced the introduction of further routes to Spain for the Summer 2012 season.
Bournemouth airport will introduce new routes to Alicante, Barcelona Girona, Fuerteventura, Gran Canaria, Lanzarote, Malaga and Tenerife Sth starting from February, with a further route to Ibiza beginning in March.
Cork airport will launch routes to Barcelona, Valencia and Ibiza from Bristol, and to Alicante and Barcelona as from March.
Furthermore, to celebrate the opening of their new base at Palma de Mallorca, the airline will add a further 17 routes to their existing 30 - the new routes being : Aarhus, Cork, Gothenburg, Haugesund, Kaunas, Krakow, Maastricht, Malaga, Magdeburg, Marseille, Oslo, Paris Beauvais, Poznan, Santander, Santiago, Stockholm, and Tampere.
The introduction of flights to area who have not felt the effects of the crisis quite so badly as others is encouraging for the property market of the island and for tourism alike, and reaffirms Ryanair's position of the fastest growing carrier in Spain.