Rajoy picks economic duo to fight crisis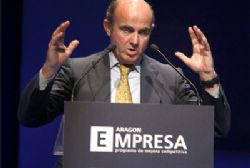 Spanish Prime Minister Mariano Rajoy opted for a mix of public and private experience in naming separate economy and treasury ministers on Wednesday, splitting what had been one cabinet post into two as Spain faces a deep economic crisis.
Luis de Guindos, 51, was appointed economy minister. He is an economist who has headed Lehman Brothers in Spain and was second-in-charge in the ministry between 2002 and 2004 when the centre-right People's Party was last in power.
Named to the newly created position of treasury minister was Cristobal Montoro, 61, who has steered the economics policies of the People's Party over the last seven years that the party has been in opposition.
Montoro was the No. 2 in the Economy Ministry from 1996 to 2000 and was treasury minister from 2000 to 2004.
The two men face a gargantuan task to revive an economy that may already be slipping into recession while they persuade Spaniards - one fifth of whom are jobless - to accept stinging austerity measures needed to meet tough EU deficit targets.
Both men have said the new government must act very quickly to restructure banks, overhaul Spain's rigid labour law, slash spending to bring the deficit within European targets, and restore confidence in the economy.
De Guindos, a fireball who has spread a message of doom over the economic policies of the outgoing Socialists, is well known among international investors and has already been meeting with foreign bankers who were betting he would get the post.
He will likely be charged with selling Spain to bond markets that have forced up the country's borrowing costs on concerns it could be dragged further into the euro zone debt crisis.
Montoro, less well known outside Spain, will face more of the pressing domestic issues such as cleaning up the accounts of the country's 17 autonomous regions, many of which have steep deficits.
Economists said the two would make a good team.
"Rajoy has created a good tandem for the key areas of economy and treasury," said Jose Carlos Diez, chief economist for brokerage Intermoney.
"De Guindos is an excellent economist, he speaks English and knows the intricacies of markets and Brussels. ... Montoro is ideal to put the public accounts in order," he added.
Both men were the subjects of ample speculation that they would become ministers in Rajoy's government.
De Guindos, an outspoken critic of the economy's structural deficiencies and the previous Socialist government's economic policy, currently heads the Financial Sector Centre in Madrid in conjunction with PriceWaterHouse and IE Business School.
MINISTER BACKS RAJOY'S REFORMS
De Guindos has openly backed many of the reforms that Rajoy has promised to make, including deepening a labour reform to end a system of collective bargaining and untying inflation-linked wages.
De Guindos also believes banks must make serious advances in valuing their toxic property assets after a boom turned to bust in late 2007. He has also discussed the idea of creating a "bad bank" to isolate such assets, though it is not clear that is the way he would go in the end.
He faces a tough task in turning around Spain's economy. In a Reuters poll last month, Spain's public deficit was forecast to hit 6.5% of GDP this year, above the government's 6.0% target.
De Guindos, like most analysts, believes Spain's regions will fail to hit their own deficit-cutting objectives for the year, knocking the central government's target off course.
Analysts at least were optimistic Madrid-born De Guindos has the acumen to lead Spain out of a deep crisis.
"De Guindos has a very liberal economic view and he has the advantage that after being economy secretary he has been very close to what is going in the financial world," said Emilio Ontiveros, head of consultancy Analistas Financieros Internacionales.