Rural Spanish housewife clubs win "El Gordo" lottery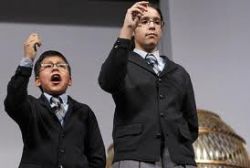 Housewives in several small agricultural towns in northern Spain celebrated with champagne and pre-Christmas cheer after sharing the top prize in El Gordo, the world's biggest lottery jackpot.
Two housewives' associations in Granen, with 2,000 inhabitants, and its neighboring village of Sodeto in the northern region of Aragon split a record 4 million euros among a series of tickets with the number 58,268 in the famed lottery whose name in English means "The Fat One."
The associations sold shares in the tickets, which are split in a series of 10, to family members, neighbors and friends for 5 euros each. Each tenth of a ticket was worth 400,000 euros.
Crisis-hit Spaniards kept up spending on the huge Christmas lottery this year in the hope of adding some sparkle to a festive season blighted by austerity, mass unemployment and the threat of another recession.
"I'm going to pay off my debts," one winner, Yolanda, told Cadena Ser radio.
Ecstatic winners opened champagne, jumped for joy and cheered in the streets after winning a fraction of El Gordo. Three bars in the province's capital also sold winning tickets.
"This is the reward for a very bad year, full of sacrifices and hard effort. We've worked like mules," Susana Perez, who owns an insurance agency with her husband, told Spanish media.
Lottery operator Loterias y Apuestas del Estado (LAE), the government's most lucrative public enterprise, paid out 2.5 billion euros this year in total prizes for the Christmas draw to winners across the country.
The winning numbers are sung out by school children during a television presentation. El Gordo is designed so as many people as possible get a win.