5.5 Million Spanish Flights over Xmas Holiday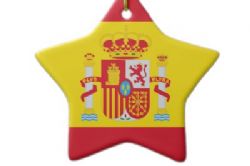 Almost 5.5 million passengers are expected to fly from AENA airports in Spain over the holiday period, totalling some 37,427 scheduled flights.
The 24th and 25th are scheduled to see 10,733 flights carrying 1.51 Million passengers, whilst today - the 23rd - has a total of 4'591 flights scheuled to carry some 656,630 passengers.
Furthermore, New Year's Eve and New Year's Day is expected to result in a combined 11'374 scheduled flights carrying 1.69 million passengers.
Activity peaks following over the 'Three Kings' Weekend between the 5th and 8th of January as the country returns to work, with almost 2.3 million passengers flying on 15'320 flights.
By Region, the Canary Islands top the tables, handling a total of 2.4 Million passengers over the holiday period - up 8.3% on Christmas 2010, handling a totals of 17'665 scheduled flights - up 11.3% on last year.
As far as induvidual airports are concerned Barcelona's El Prat is scheduled to operate more than 12,000 flights over the Christmas holdiay period , handling a total of 1,970,432 passengers.