Rajoy holds first cabinet meeting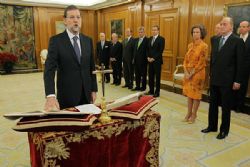 Mariano Rajoy held his first cabinet meeting as Spain's new prime minister on Friday.
Rajoy and his 13 ministers, who were all sworn in on Thursday, met at the prime minister's residence at the Palacio de la Moncloa on the outskirts of Madrid and started to define the policies the new Popular Party government would implement to lift Spain out of the ongoing economic crisis.
The new prime minister also used the meeting to confirm other members of his Popular Popular Party in their new roles. Jorge Moragas will be the Chief of the Cabinet, Carmen Martinez Castro will be Secretary of State for Communication and Jose Luis Ayllon Secretary of State for relations with the Cortes (Parliament). Alvaro Nadal will be the Director of the Economic Office and Jose Luis Lassalle was named as the new Secretary of State for Culture.
Following the meeting, government spokesperson and vice president Soraya Saenz de Santamaria told the press the first cabinet meeting of the new political era in Spain had been used to sort out the top priorities for the government.
The vice president confirmed that the next cabinet meeting, due to be held on Dec. 30, would see the government's first economic measures approved.
The measures will include pension rises, the fixing of a ceiling on spending and a freeze on employing more public employees in all areas except the armed forces.
Meanwhile, Rajoy has established Jan. 7 as the deadline for employers and unions to reach agreements on labor reform and to pass those agreements onto his government.