New Cabinet to reveal plans for the future of Spain next week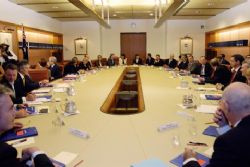 The new Government's first Cabinet meeting yesterday was spent largely on administrative and official matters of state, as opposed to the new adminstration's policies being discussed in any detail.
The Cabinet plans to announce a number of measures intended to create jobs and encourage financial growth in a country with a 22% rate of unemployment later next week.
The new Deputy Prime Minister, Soraya Sáenz de Santamaría, said how this next cabinet meeting will approve a budget extension to include measures announced earlier by Rajoy, such as raising pensions. The cabinet will also adopt a spending ceiling quota to submit to Congress in order to pass financial stability legislation and get the budget approved by March 31.
Over this coming week the government will also review the labor and financial sectors, said Santamaría, giving a deadline of January 7 for unions and employers to agree to these proposals.
The Minister also commented how the Economy and the Treasury have been split into two seperate ministries because the latter is in specifically tasked with reducing the deficit, which involves the regions, and is why it has been merged with the public administrations portfolio. The reason there has been no appointed Deputy Minister for economic affairs is because Rajoy wants to take an active role in this himself, said Santamaría.
The state secretary appointments did not provide any major surprises, although one of note is that of José María Lasalle for Culture. Lasalle is not the average party member - known for his capacity to reach out across political divides, and is even married to a Socialist politician.
When Santamaria was asked about the fall in numbers of females in the cabinet - just four, including herself - she confirmed Rajoy's statement of some weeks ago that the 'best people would be chosen for the jobs' regardless of their sex, unlike the previous administration that had selected cabinet ministers with one eye on appeasing the sexual equality brigade.