Routes cut at all Castile y Leon airports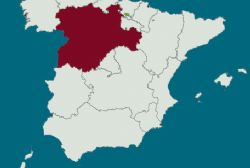 The four regional airports of Castile y Leon (Valladolid; Leon; Salamanca & Burgos) have all cut their flights to the Balearics for next summer, and with all except Burgos cancelling flights to the Canaries, and Valladolid cancelling their flights to Alicante and Malaga.
These cuts to the scheduled flights just leave Air Nostrum, Ryanair and Iberworld Orbest between them flying routes to to three mainland destinations (Barcelona, ​​Madrid and Valencia), three European destinations (Brussels, London and Paris) and two islands (Tenerife and Lanzarote).
Valladolid's Villanubla airport remains' the region's busiest airport - operating all of the above routed with the esception of Madrid, which only operates from Leon.
Ryanair will connect Valladolid with London and Brussels, with routes operating on Mondays, Wednesdays and Fridays.