Electricity prices to remain in January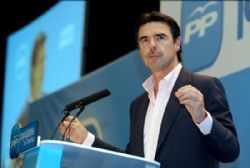 José Manuel Soria, Spain's new Minister for tourism, industry and energy, spoke to the press yesterday to confirm his intention not to increase the cost of energy in January.
The Minister said how he would be looking into other ways of dealing with the 22'000 Million debt for electricity that the new PP administration has inherited, and that he would be exploring every possibility of not passing the debt over to the consumer.
"I hope not to have to put electricity prices up – naturally, I don't plan to," He told members of the media.
Instead, the Minister intends to extend the use of electricity and telecomunications networks.
The Ministry is also looking into ways to boost the country's tourism and to promote trade relationshios abroad,given that exports and investments abroad is an essential component to new job creation.