Iberia strike action to go ahead as planned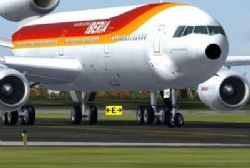 Thursday's day of strike action by pilots of Iberia airlines looks set to to go ahead as planned, after last minute talks this afternoon failed to find a resolution.
Thursday the 29th marks the second of two one-day strikes, where SEPLA union members are protesting over the airline's intention to create a budget airline under the Iberia Express brand early next year. Pilots are concerned that the move will result in job losses and that key services, such as maintenance, will be outsourced, resulting in a fall in safety standards.
At today's meeting the Airline's Chairman promised that pilots could choose to change over from Iberia to Iberia Express on the same terms of employment, on condition that the strike did not go ahead.
The Chairman of Iberia, Antonio Vázquez, told the press that "It's very difficult for the strike to be called off because everything is already underway". He went on to say how the airline is prepared to discuss issues concerning Iberia itself, but that the creation of Iberia Express was 'an absolute necessity for the company'. Vázquez would not speak of the financial impact that the the two strike dates had taken on the airline, but stressed that everything had been done to minimise disruption for passengers.
In total some 118 flights will be cancelled this week, following the 91 cancelled on the previous day of strike action on the 18th. These flights represent 36% of all of the airline's scheduled flights for the day, however, 90% of the 10'000 passengers affected have all been offered alternative flights.
Iberia flights under the Air Nostrum and Vueling brand names remain unaffected by the strike action.