Second One-Day Iberia Strike Affects 10'000 Passengers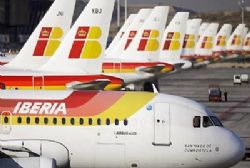 The second of the two one-day strikes passed today, whereby protesting Iberia pilots forced the cancellation of some 118 flights.
Action by the SEPLA pilot's union had affected 36% of all scheduled flights over the course of the day, and a total of 10'000 passengers. Those affected had been either offered a full refund, alternative travel to their destination and the offer of overnight accomodation in a Madrid Hotel.
Iberia, who merged with British Airways at the beginning of this year to create International Consolidated Airlines Group SA, plans to create a new subsidiary airline under the name of Iberia Express in March of 2012 to compete with other 'low cost' European carriers such as Easyjet and Ryanair, on short and medium haul flights.
Iberia pilots are concerned that this will result in a number of cost-cutting measures and services being outsourced in order for thise service to become competetive.
On Tuesday of this week a last-minute attempt to find a resolution between the union and the airline failed, which prompted Iberia to call the creation of the new airline as being "unnegotiable."
"No matter what happens, Iberia Express will be operating as planned," The Chairman of Iberia, Antonio Vázquez, told the press.