Court rules against Ryanair airbridge appeal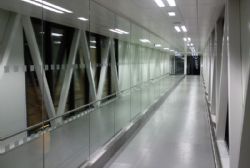 The Commercial Court in Elche, Alicante, has ruled in favour of AENA enforcing the use of airbridges at El Altet airport.
In November Ryanair cut 50% of their scheduled routes at the airport following AENA's insistance that airbridges had to be used for boarding passengers. Whist El Altet management claim that this is due to saftey requirements and that passengers may still embark on foot at a number of gates, the airline claims that the airbridges are simply unnecessary.
The cost of using the airbridges would be an estimated 2 Million Euros per year, which Ryanair refuse to pass over to their passengers. Furthermore, the airline claim that their enforced use would result in delays in turning the aircraft around.
Earlier this year the outspoken Chief Executive of Ryanair, Michael O'Leary, commented that the enforced use - and therefore payment for the airbridges - was simply a tax to pay for a new airport terminal building that was neither requested or necessary.
The airline cited their original contract with the airport, which permitted the embarkation of passengers by foot - as AENA do at all their other airports except Barajas and El Prat.
However, the court today found that as airline uses passengers airbridges at other Spanish airport without being inconvenienced, it is therefore 'not an essential factor of their operations.'
It is understaood that Ryanair will not be permitted to appeal this decision further.