Site named for delayed nuclear waste dump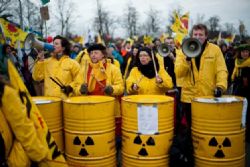 Spain's incoming centre-right government named a site on Friday for a nuclear waste dump, a decision that had been long delayed by its Socialist predecessors amid protests by residents and regional authorities.
The industry ministry chose Villar de Canas - 135 km southeast of Madrid - for the Temporary Centralised Store (ATC in Spanish) which it said will bring 300 jobs to the town of 400 people.
"The ATC is an indispensable installation for a country with nuclear power stations," the ministry said in a statement.
"Radioactive waste has been generated for decades and will continue to be for years because Spain is not in a position to do without nuclear power," it added.
Spanish nuclear power stations have accumulated an estimated 6,700 tonnes of spent fuel in cooling ponds and will run out of room to store it from 2013.
Spanish voters are generally opposed to nuclear power - which provides about 21% of the country's electricity - and no new plants are planned. But all but one of its eight existing reactors have been authorised to run until at least the 2020s.
The ministry said the project would cost 700 million euros ($904.02 million). But environmental group Greenpeace put the price at 2 billion euros, and said it would create new risks by making power stations transport waste across Spain to the site.
"The ATC only benefits nuclear plant owners, who will save on part of (the cost of) nuclear waste management by squandering public money," Greenpeace spokeswoman Raquel Monton said.
The managers of one partially dismantled nuclear plant have already placed 175 tonnes of spent fuel in a local store, while they wait for the ATC to be built.
LONG DELAYS
Spain's parliament originally voted in 2004 to build the ATC, but the project won little support from regional politicians and the government did not call for bids from town councils until December 2009.
Many small towns threw their hats in the ring to try to create sorely needed work in a country with the European Union's highest jobless rate.
However, protesters took to the streets across Spain and several regional governments, which have considerable autonomy in Spain, fiercely opposed the plans.
A government commission finally recommended several towns, including Villar, in September 2010 but no action was taken.
The United Nations' nuclear watchdog, the International Atomic Energy Authority, has been recommending Spain build a central waste dump for some years.
The ATC is designed to last for several decades. Highly radioactive waste needs to be stored for many thouands of years, and several underground sites around the world are being considered for long-term projects.
Spain's nuclear plants are run by power utilities Iberdrola , Endesa , Gas Natural and Hidrocantabrico.