Black Market Tobacco Expected to Increase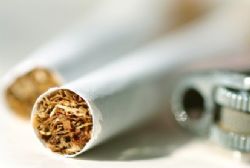 The Financial Times has reported how the sale of Black Market tobacco in Spain is expected to escalate as consumers become more price conscious surrounding amid rising cigarette prices and taxes, and falling consumer spending due to the country's rising unemployment and the ongoing recession.
A report by Imperial Tobacco estimated that an average 6% of all tobacco sales in Spain are done so on the black market - rising to 20% in a number of cities in Andalucia.
As taxes have increased and the end of a price war between major brands has seen prices on cigarettes increase considerably over recent years, many smokers have turned to rolling tobacco as a cheaper alternative.
Many of those who prefer to smoke the pre-rolled cigarettes have been tempted by illegally imported Chinese brands which are become increasingly widespread throughout many parts of the country, however the quality of tobacco is often dubious and many of the additives are unknown or untested.
José Luis Nueno, a professor of marketing at the IESE business school explained "Spain has three areas where consumption of contraband tobacco is higher – Galicia, because of its proximity to Portugal. Andalusia, due to Gibraltar, and Catalonia, because of Andorra."
The value of the black market for tobacco is estimated based on the volumes being seized by Spanish customs. The Hacienda believe that just 1 in 15 packets of illegally smuggled cigarettes is seized by customs agents.