Corvera airport takes a further step towards becoming operational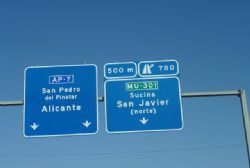 The new regional airport at Corvera, Murcia, is expected to commence testing over the course of the first quarter of 2012.
The airport will inherit the 1.3 Million passengers per year currently using the region's San Javier airport, where commercial flights will cease and the airport become exclusively for military use as soon as operations can be transferred.
The regional government of Murcia and the licence holder and owner of Corvera airport, Aeromur, have already been looking closely at the Ciudad Real and Castellón airports - one recently closed and one yet to become operational - to learn from lessons from the mistakes made by other privately owned airports.
As Corvera enters the final stages of preparing to become operational, the airport has entered into a contract with Iberdrola for the provision of electricity, by means of a 40 MVA transformer.