AENA dismisses offical complaint lodged by Dec 2010 passengers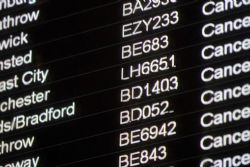 AENA has dismissed the official complaint filed by passengers affected by the strike action of December 2010, and their claim for financial compensation.
The official response, signed by the director of the Technical Secretariat of AENA, Jesús Fernández Rodríguez dismisses the complaint by a group of 53 passengers and tells them that from this point they now have a period of two months to lodge an appeal with the administrative courts against the resolution.
AENA and the Ministry of Public Works refuse to deal with any compensation for damages caused to the 100,000 passengers affected by the action, because they believe that there was nothing that they could have done to prevent the situation.
Furthermore, both agencies believe that the fault lies with the air traffic controllers as it was their decision to leave their posts that cuased the disruption and inconvenience to passengers.
AENA did acknowledge that they were aware of the miscontent felt by the Air Traffic Controller over the changes to working conditions imposed on them by the previous PSOE government.
In November the High Court exonerated AENA for any responsibility for compensation caused by the strike, however the decision is still under appeal.