Spain ageing nuclear plant may stay open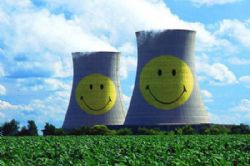 Spain's incoming centre-right government may allow an ageing nuclear plant to stay open beyond a 2013 deadline for closing set by its Socialist predecessors, a newspaper report said on Monday.
Environmentalist groups have protested that Spain is out of step with countries like Germany, which closed seven older nuclear plants after Japan's Fukushima disaster last year and plans to shut the rest within a decade.
In 2009, then-premier Jose Luis Rodriguez Zapatero ordered the Garona plant to close in 2013, by which point it will have been in operation two years more than a benchmark 40-year lifespan. Zapatero's decision came after the Nuclear Safety Council ruled the plant could run safely until 2019.
El Mundo newspaper reported that Industry Minister Jose Soria, who took office last week after his People's Party (PP) swept to election victory on November 20, said he was not "a supporter of under-utilizing that capacity for five years."
Soria was quoted as adding no final decision had been taken.
Industry Ministry officials were not available for comment.
Garona - jointly owned by Spain's two largest power utilities, Iberdrola and Endesa - generates 460 megawatts of power, or about 0.5% of Spain's total capacity, so closing it would not pose supply problems.
Running nuclear plants is profitable, however, and in their unsuccessful election campaign the Socialists proposed introducing a windfall tax on them.
Spanish voters are generally opposed to nuclear power - which provides about 21% of the country's electricity - and no new plants are planned.
Apart from Garona, Spain's seven other reactors are much younger and expected to run until at least the 2020s.