Spanish new-car registrations fall 3.6 pct in December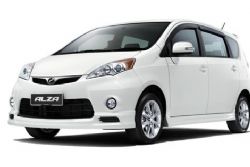 Registration of new cars in Spain fell by 3.6% last month compared to December in 2010 - down to 66,458 units, according to the Spanish car manufacturers' association ANFAC.
In November the Country's new car registrations fell 6.4%, with December marking the fourth consecutive month of declining new car registrations. For 2011 as a whole, the number of new cars registered in Spain was 808,059 units, accounting for a drop of 17.7% compared to 2010, when 982.015 new cars were registered, ANFAC announced.
2011 is the second worst year for the sale of vehicles in Spain since official records began, second only to 1993, when 792.500 vehicles were registered. 2011 is all also the third consecutive year in which registrations of new passenger cars were less than 1 million units. Of the total of 808,059 vehicles sold in Spain in 2011, 708,041 were passenger cars (down 19.11%), while 100,018 were all-terrain vehicles (down 6.5%).