Consumer Association singles out telcomms sector for poor customer service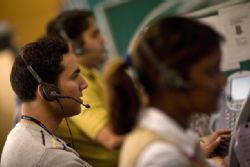 A report by HISPACOOP - the Spanish Confederation of Consumers and Users Cooperatives - has been published, which details the results of an intensive study into the customer service offered by the country's Electrical and Telecommunications providers.
The study analysed 18 customer support services provided to clients, taking into account 12 different criteria, which included a free contact telephone number; 24-hour technical support; clear and concise communication; a speedy solution; and qualified, helpful personnel.
Although it will come as little surprise to many, not one of the 18 services the report investigated was found to reach the minimum standard to be considered as 'quality customer support'.
The providers in the Telecomms sector were given a derisory score of just 29%, with 80% of the calls being made to the customer support service department being answered by an automated system, with an average of 2.5 options on the menu. the report criticised a lack of coordination between departments, with 1 in 5 of all callers having to repeat their problem to different members of staff within the same company.