Second round of Iberia strikes to result in 266 cancelations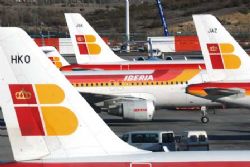 Iberia airlines are expected to cancel a total of 266 scheduled flights on the second round of two one-day strike dates to be held by their pilots on the 2nd and 11th of January.
Pilots held their first round of strikes on the 18th and 29th of December, which caused the cancellation of 91 and 108 flights respecitively, and caused disruption to more than 22'000 passengers.
The strikes are being held by SEPLA union members, who are in the employ of the airline, in protest over their plans to create the Iberia Express low cost airline by March of this year.
Nineteen of next week's effected flight are long-haul international flights, while 84 are between Madrid and Barcelona, the airline revealed earlier today. Routes hit by the strike include Lisbon, London, Brussels, Amsterdam, Paris, Zurich, Frankfurt, Rome, Milan, Venice, Tel Aviv, Moscow and Casablanca and flights from Madrid to Bogota, Lima, Miami, Sao Paulo, Buenos Aires and Mexico City. Internal flights to Seville, Xerez, Malaga, Bilbao, La Coruna, Asturias, Santiago de Compostela and Vigo will also be cancelled.
The second round of strike action has been timed to coincide with much of the population returning to work after the 'three-kings' holiday weekend. To limit disruption, the airline has made prices more flexible, allowing flights to be changed, affected customers to be reimbursed or flights to be transferred to other companies, as it did for the previous strike dates.