Spain makes provisions for €50 billion in bad loans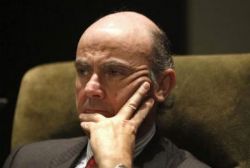 Spain's troubled banking sector will be required to make provision against up to €50 billion worth of bad loans, Luis de Guindos stated in an interview published in the Financial Times newspaper this morning.
"If you take international valuations as in the case of Ireland, at the most you are talking about the need for €50 billion of extra provisions for Spanish banks" Spain's new Minister of the Economy told journalists.
"In the great majority of cases, they can provide it themselves from their profits, and it could be done not in one year but over several years," he continued.
The minister went on to say how Spain's programme of austerity measures will focus on the regions, with a new law in March being planned which will introduce strict control over their budgets. "You will have a prioritise controls. Before approving the budget, ministers will need the green light from the central government," he said.