PSOE Government obstructed EU fishing proposals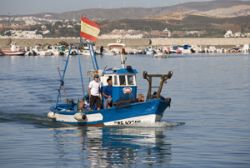 The Guardian has reported how the new PP Government of Spain is being called upon by Brussels to reform the country's fishing industry - the largest in Europe - after the previous PSOE Government was obstructive in putting reform into practice.
The main issue centres around the common practice of discarding huge amounts of fish at sea, where cheaper fish are thrown overboard in favour of a more prized catch - or in instances when fishermen have unintentionally exceeded a quota. Such fish are normally perfectly edible, and this has caused a number of campaigners and celebrity chefs to push for an overhaul of the EU's common fisheries policy.
The situation of excessive waste is all the more frustrating when almost three-quarters of the EU's fish stocks are now estimated to be overexploited.
However, a secret document has now been made public which shows how the outgoing Government was lobbying for a continuation of the Policy of 'Discards at Sea' just days before being voted out of office, and it remains to be seen the approach that Mariano Rajoy's PP Government will take.
But the largest Fishing Industry in Europe, which employs tens of thousands at a time when unemployment levels within the country are rising, can not be sidelined, and it is inevitable that the new Cabinet will be under huge pressure from the powerful Spanish fishing lobby to oppose the reforms. Although many fishermen support ending discards, because they hate the waste of throwing back edible fish to die, some want to continue the practice because it allows them to maximise their profits and make way in their quota for higher-priced fish.
The European Commission is proposing to change fishing quotas in order to reach a scientifically set "maximum sustainable yield" for all fisheries by 2015. But the previous Spanish government wanted to extend this deadline to 2020.