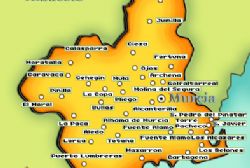 The hopes and expectations of those with a vested interest in the region of Murcia's tourism industry have long been resting on the success of Corvera airport, Paramount Pictures theme park and the arrival of the AVE high speed rail link to the region.
However, things made a welcome step forward yesterday when the regional Minister of Culture & Tourism, Pedro Alberto Cruz, formally launched a new programme to promote tourism in the region.
The launch of ' Destination Murcia ', mainly targeting the UK, Germany, Russia, Scandinavia and Eastern Europe, comes at a cost of some 11 Million Euros - much higher than last year. The the new brand leaves behind the previous, somewhat controversial slogan of 'Murcia is not typical', which was hugely unpopular with many involved within the tourism sector.
The Tourism Industry associations, Hostec and Hostemur, are both in favour of the programme.
For it's part, the new Corvera International Airport is expected to become fully operational by late summer 2012, with the arrival of the AVE High Speed railway link being finalised in 2014. Finally, the Paramount Pictures theme park will be operational for the summer season of 2015.
The combination of these projects- together with numerous other, smaller projects - have left a feeling of optimisim within the tourism sectors and the regional economy as a whole which is waiting for a much needed boost.