Ryanair's Dec traffic down after aircraft grounded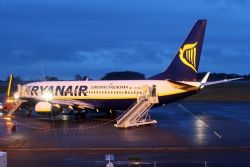 Ryanair carried 4.8 million passengers in December, 5% less than a year ago, Europe's largest budget airline said on Thursday after it grounded 80 aircraft to avoid flying routes made unprofitable by high fuel prices.
The Irish company said its 2011/2012 winter traffic was expected to fall by around 5% due to the decision to ground planes. Ryanair said its December load factor - a measure of how well a carrier is selling available seats - was 79%t, down 1% from a year ago.
last year overall Ryanair carried 76.4 million passengers and had a load factor of 82%.