Peinador Airport Passenger Numbers Forecast to Fall in 2012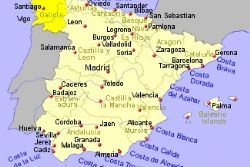 Latest figures released by AENA have revealled how Galicia's Peinador airport in Vigo was unable to surpass 1 Million passenger for 2011 - the first time it has been unable to do so since 2005.
Furthermore, the forecast for 2012 sees passenger numbers falling further still - possibly to below 900'000.
Ruben Lopez, a member of the Airport Business Association who,commented that 'the situation looks extremely bad for this year as the fall in traffic is more worrisome'.
Lopez went on to call for the creation of an organisation that would promote the airport and a provide a coordinated plan for the development of infrastructure to attract local businesses. He also criticized the subsidy policy currently operated at the the regions three airports, which he claims 'only benefit the companies but not the users' and says it that it is a mistake that to make the three airports compete against each other.