Telefonica tests 400g fibre optic service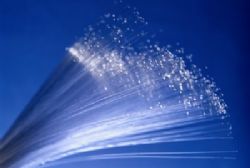 Telefonica is reportedly testing channel speeds of 400 Gbps on a live fiber-optic network. The tests were carried out to check the feasibility of using 400-Gbps channels on systems already carrying traffic, and to demonstrate that the network will be able to support speeds such as this in the future.
However, even if tests come back with positive results, it is unlikely that these speeds will be made available to the general public until 2103 at the earliest.
The company is also in the process of upgrading its national network to a high-capacity photonic mesh, with Ericsson supplying the optical network.
The route of the trial was the connection between Granada and Jaén - a total distance of 140km, with an intermediate optical amplifier in Alcalá la Real (Jaén) creating two sections of 66 and 74 km.