Spain's Santander says reaches core capital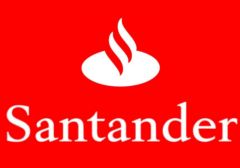 Spain's Santander, the euro zone's largest bank, said on Monday it had reached a new requirement of 9% of core capital by raising 15.3 billion euros, 6 months ahead of a deadline set by the European Banking Authority (EBA).
The EBA has set tough new capital rules for European banks to make sure they can weather the deepening euro zone debt crisis.
Santander said it raised the amount through a 6.829 billion euros bond exchange, a 1.943 billion euros exchange of preferred shares for ordinary new shares, a 1.660 billion scrip dividend application and 4.890 billion in organic capital generation and the transfer of stakes in Chile, Brazil and elsewhere.
In a news release Santander reiterated its goal of increasing its core capital ratio to 10% in June, one point above the level required by the EBA.