Castellon Airport spends 30mln on advertising - but remains closed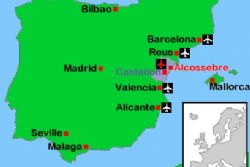 El Pais has dubbed Castellon Airport, in the Region of Valencia 'The most useless airport in the world' after revealing how it has now spent over 30 Million Euros on an advertising and sponsorship campaign, together with commissioning a 25mt high bronze statue to the value of 300'000 Euros.
The statue is an impressive display of arrogance and self-importance : a bronze likeness of President of Castellon, Carlos Fabra, coincidentally also the President of Aerocas, the concessionaire of the airport, weighing some 20 tonnes.
Aerocas has defended the expenditure of the advertising budget by claiming how it was necessary to attract airlines and visitors, however, the airport remains without any scheduled flghts.
The company has also been reported to have doubled the salaries of it's staff of seven.
A number of airlines, including Air Berlin, Vueling and Ryanair, have all been in negotiations with Castellon airport but have declined to take matters further until the airport can obtain the necessary correct permits to allow flights to operate.