Passengers using Spanish airports top 200 Million in 2011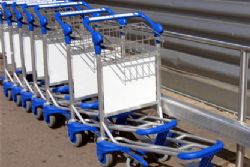 Despite waiting for confirmation of final statistics from December, every indication is that 2011 will have resulted in passenger numbers returning to an excess of 200 Million for the year, last seen in 2008.
In late November, the Spanish airports authority reported an increase of 6.1%, largely due to the improvement of tourism to Spain.
In particular Barcelona's El Prat airport saw significant growth of 17.8%, while Madrid-Barajas fell by 0.5%.
Other major operators such as BAA, who own London's Heathrow airport, have seen similar increases in passenger traffic.
AENA's return to growth in numbers and financial profitability have also come at the best possible time for the Government.
The plans to privatise the Government's stake in AENA were originally shelved by the PSOE under pressure from the PP prior to the November general election, however, were just last week reinstated.
The combined Privatisation of Madrid's Barajas airport and Barcelona's El Prat airport is expected to net the government 10 Billion Euros together with a guaranteed yearly premium from the successful applicant to operate the airports.