Govt asked to appoint new operator for Castellon airport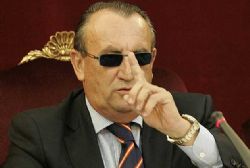 Following on from yesterday's revelation that the operators of Castellon airport, Aerocat, have spent 30 Million on advertising before a single flight has even been scheduled to arrive, the Deputy President of Valencia has asked the Minister of Development to appoint another operator.
Ximo Puig is believed to have asked Minister Ana Pastor to consider appointing AENA as an alternative operator for the controversial airport, which has attracted criticism for being unable to obtain the required permits and licences, and having failed to schedule on single flight since opening one year ago.
The airport was officially opened in March 2011 and has absorbed almost 150 Million euros in investment to date, yet a question mark still hangs with regards to it's future.
As one may expect, the issue is also now being made a political one, with various members of the PP and PSOE local, regional and national governments blaming each other for the reasons behind the airport's failure.
Similarly, court action is underway to investigate the irresponsible waster of public money, largely at the behest of Carlos Fabra, the President of the Province of Castellon and also President of Aerocat - the concessionaire of the airport (anyone else smell a rat ?)