Organ donation in Spain reaches record levels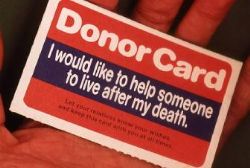 The number of Spanish organ donations and transplants increased to record levels, according to a report published today by the National Organization of Transplants (ONT).
The Director of the ONT, Rafael Matesanz, explained how throughout 2011 a total of 1,557 donors had made 4,218 transplant operations possible - 500 procedures more than 2010.
Matesanz also spoke of the importance in establishing a "Guide for Good Practices" in organ transplants in order to ensure that numbers continue to improve.
The Good Practice Guide has been written by the ONT themselves and highlights the requirement of educating the country about the importance organ donation has in saving or improving the lives of those in need of a new organ. A further aim is to promote co-ordination between hospitals - even between different departments of the same hospital.
The report goes on to say how more than half of all of Spain's organ donors are over the age of 60.