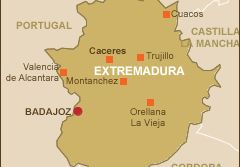 The last commercial flight departed from Badajoz airport in Extremadura yesterday, raising further questions about the country's fascinantion for building airports that it is unlikely to ever need, or be able to sustain.
This follows the closure of Ciudad Real airport late last year, and the opening of Castellon airport in March 2011, which has yet to scheduled it's first flight.
The airport, which was built in 1990, shares it's runway and control tower with the Tavalera la Real Air Force Base, who will continue with Military operations from the site, together with being able to process the occassional private flight.
Between January and November last year, only 52,000 passengers used Badajoz, representing a fall of 9.3% on 2010 according to AENA's own figures. The airport peaked in 2007 with 75,000 passengers in 2007, however the collapse of the property market and put an end to the demand for flights to the backwater province.
Despite falling demand and being unable to make a profit, In 2010 AENA invested in a programme of redevelopment at the airport to increase the size of its terminal, car parks and runways. However, barely 12 months later Air Nostrum decided to pull out of the airport citing a falling demand.
Spain currently has 48 airports in the AENA network and 2 Private airports which are operational. Less than half of these are profitable and require significant subsidising from the Government, yet according to AENA last year's total passenger count of 200 Million was a 'record high'.
Two Questions :
1. If less than half of all airports can not attract sufficient flights to make a profit in periods of record passenger numbers, where do they go from here ? Surely they can only make further losses when times are not as 'good' as 2011 ?
2. Why, when passenger demand at many of the smaller airports is falling and debts are increasing, is AENA investing so much public money into developing them and, worse still, investing in building further new airports ?