Ryanair brand Catalonia funding of Spanair 'illegal'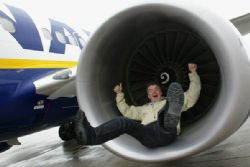 Ryanair has tried to defend the subsidies it has received from the Generalitat Catalonia to maintain flights at the region's Reus and Girona airports, but slammed subsidies afforded to its Barcelona-based rival Spanair as being "illegal."
At a news conference to announce 19 new flights out of Girona this summer, Deputy Chief Executive Michael Cawley said the Catalan government had habitually broken European rules on state aid in its funding of Spanair, which he described as "inefficient, high-cost, polluting and should be in receivership."
Towards the end of last year Ryanair agreed a deal to the calue of eight million euros per year in funding from Catalonia in order to continue flying out of Reus and Girona airports for the next five years. Based on the understanding that fees at the airports will not increase over this period, in return Ryanair are guaranteeing to bring 3 million passengers per year to Girona airport and 500'000 to Reus.
Cawley also explained that Ryanair "does not look for subsidies, but for low costs," and "does not care" how it goes about securing them.