Ryanair announce new flights to Girona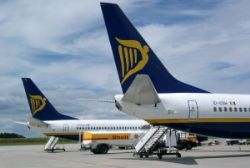 Ryanair's Deputy CEO, Michael Cawley, gave a press conference in the Barcelona earlier today, where he confimed that a total of 18 additional routes would be added to the schedules for summer 2012, and would be offered for sale on the company website as from tomorrow.
The new flights will cover : Aarhus; Bydgoszcz; Cagliari; Cork; Doncaster; Düsseldorf; Gdansk; Ibiza; Knock; Krakow; Madrid; Malmo; Nador; Perugia; Poitier; Skelleftea; Stockholm; Thessaloniki and Turku, all of which will become operational from the end of March.
The announcement shows Ryanair's commitment to their pledge of bringing 3 Million passengers per year to Girona for which, along with bringing 500'000 passengers to Reus, they will funded 8 Million Euros per year.
This move will see the number of aircraft based at Girona increase from 4 to 9, and will result in the creation of further much needed jobs in the region.
This commitment to the regional airports of Catalonia, together with their on-going disputes with the Valencian authorities, must surely be of concern to those holding out hope of Ryanair establishing routes to and from Castellon airport in the near future.