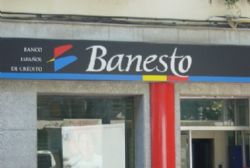 Spain's Banesto posted a loss at the end of 2011 after taking a hit of €280mln over real-estate losses.
The Bank advised industry regulators that net losses were €173.3mln, compared with profits of €9.46mln last year, in contrast with analysts predicting a €7.34mln profit.
Market conditions forced the bank to revalue loans by 8.6% last year, and as such is rationilisng on all lending and making allowances against bad debts. The company expects further losses as the government prepares further provisions against revaluing foreclosed property assets held by lenders.
Just last week the Ministry of Finance instructed Spain's banks to face €50bln of provisions as an alternative option to creating a 'bad bank'. Banesto said it had reduced its lending risk associated with real estate to 6.6 billion euros at the end of 2011 from 8 billion euros a year earlier.
Despite reducing it's exposure to bad debt from €8bln to €6.6bln by the end of 2011, the bank now classes 47% of its property-based loans as being high risk, and increase of 30% on 2010. Banesto also currently has 36% of its acquired or foreclosed real-estate assets covered with provisions, compared with 24% at the end of 2010.
By the end of Q4 2011 the Bank's percentage of all bad loans to 4.94% from 4.65% at the end of Q3 and 4.08% at the end of 2010, the bank said.