Contrast in Catalan airport figures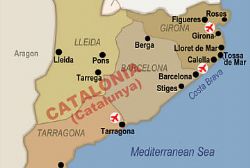 Passenger numbers at Barcelona El Prat airport are expected to exceed 34 million, representing a 17.8% increase on 2010, and a record year for the airport. The airport was second only to Madrid's Barajas, which saw passenger numbers for 2010 fall by 0.4% to reach 49.6 million.
This is largely due to a 24.1% increase in flights from outside the EU, together with an increase of 16.8% on intercontinental flights. Furthermore, Ryanair passengers have contributed enormously to the success of El Prat's new second Terminal, welcoming 10 million passengers last year.
National flights to from El Prat to Gran Canaria, Alicante, Ibiza, Seville, Fuerteventura, Santiago de Compostela and Santander have also increased on 2010, and the airport's success has undoubtedly made a signnificant contribution to the growth seen across the AENA airport network as whole. Total passengers across all AENA airports reached 204 million passengers in 2011, 6% more than in 2010, and second only to the record year of 2007 when 210 million passengers were processed.
But the success of El Prat contrasts with the decline of two of the region of Catalonia's other airports - Reus and Girona. Passenger numbers at Girona airport were 38.2% down on 2010, whilst Reus airport saw a decrease of 4%.
However, an announcement by Ryanair earlier this week confirmed that 19 new flights are to commence at Girona airport from the end of March.