Moody's downgrades Valencia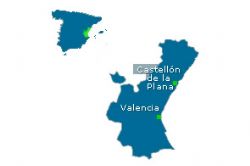 Earlier today Moody's credit ratings agency downgraded the debt rating of the Autonomous Community of Valencia by two points - dropping from BA1 to BA3.
The agency also threatened to downgrade the rating of further 9 Spanish regions due to their growing liquidity problems and doubts over the acheivability of budgetary stability.
Moody's also kept their 'negative outlook' on Valencia's debt, and did not rule out the possibility of reducing their debt rating - which is already 'junk' - further still. The region was also deemed to be heavily reliant on financial support from the central government.
Elsewhere, Moody's also maintained their negative outlook for Galicia, Madrid, Pais Vasco, Extremadura, Andalusia, Castilla y Leon, Murcia, Catalunya and Castilla-La Mancha.
The agency also spoke of their concerns over the 2.7% deficit seen in Spain's regions - more than double the 1.3% expected.