Cabinet to discuss labour reforms later today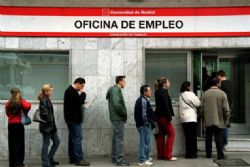 The Cabinet will meet later this morning to discuss, amongst other issues, reforms of the employment sector, which is expected to result in negotiation for a new type of employment contract, which will last until the end of the current economic crisis.
According to the Chairman of Spain's Confederacion Espanola de Organizaciones Empresariale (CEOE) Business Group, Juan Rosell, the move will make it it easier for employers to issue temporary work contracts, and cheaper for them to lay staff off, thereby encouraging them to employ more staff without worries that they are committing themselves financially to a workforce that they can not afford. It is hoped that this encouragement will lead to a fall in unemployment ans stimulus for the wider economy.
The Minister of Employment and Social Security, Fatima Banez, has been asked to take charge of the situation by a number of Business Groups, who have been unsuccesful in negotiating new reforms with union leaders, as the deadline originally issued by Government for the two parties to reach an agreement draws nearer.
.