Iberia crew members threaten to join Pilots strike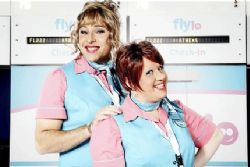 Iberia's ground staff and cabin crew have promised to join with their Pilot colleagues in further strike action planned for next month.
The groups had previously voted not to take action with the SEPLA Pilot's union, however, following the four recent strike dates held over the Christmas period, they will now join the protest in calling for reassurances that their jobs are safe in light of Iberia's announcement that they are to create a new budget airline.
Fear are that the airlines's Iberia brand will be forced to downsize and staff on cheaper salaries will be employed at the new Iberia Express airline.
The airline currently employ around 1'600 Pilots, 16,000 groundcrew and 4,000 cabin crew.
The airline, which operates mainly medium and long haul flights, expects disruption to be worse at Madrid's Barajas airport and Barcelona's El Prat airport, but does not rule out disruption caused by delays and cancellations at other airports.
Executives from the CCOO and UGT unions will vote on the strike proposal during meetings scheduled for next Tuesday and Friday. If the proposal is approved, the first strike date would take place on February 3rd.