Air Nostrum announce prepare for route cuts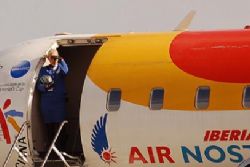 Air Nostrum has announced that it will rationalise it's domestic routes, abolishing those which are unprofitable, by the end of the summer period, with the intention to cut the number of aircraft in it's fleet from 57 to 42.
The Iberia Franchisee also intends to renegotiate the employment contracts and salaries of it's 1'800 employees in order that the compant can ramain competetive in the face of mounting competetion from other budget carriers, escalating fuel costs and the effects of the economic crisis.
Certain routes - such as Valencia to Madrid - have seen income fall by in excess of 40%, however the airline would not be drawn on the specifics of which routes are likely ro be slashed as a result of the cuts, but stated that the decision would be made based on a number of different criteria such as popularity and profitability.
(A cynic may also put 'regional subsidies' at the top of the list of such criteria.)
Provisional figures for 2011 estimate that the airline flew 4.8 Million passengers during the year, with an operating loss of almost 10 Million Euros.
Other changes, aside from the airline moving it's base of operations from Valencia to Bilbao, which was announced last year, include meals no longer being included in the ticket price.