Catalan Police in Protest over spending cuts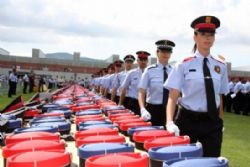 Around 50 members of the Catalan police held a protest at Barcelona's largest police station yesterday over the regional government's planned budget cuts.
"If they won't negotiate, we'll fight," warned one Mosso d'Esquadra. The protestors staged a sit-in and pledged not to move from the Plaça de Espanya station until the head of internal affairs, Felip Puig, promised to to negotiate with them. Until then, the Mossos are considering several courses of action, such as using Castilian Spanish exclusively in their relations with the public.
Unions complain that Police offices have lost 5% of their salaries over the last 18 months, and that 380 patrol cars have been taken out of circulation. "We cannot provide a good service with everything they're doing," said David Miquel, of the police union SPC.
The Catalan regional government has imposed a number of drastic cost-saving measures in a bid to contain the budget deficit, which have already seen cuts to the education and health sectors, and had previously warned that public servants were next in line.
Meanwhile, in the region of Valencia, police broke up a sit-in by another 50 individuals at Palau de Fuentehermosa, a government building, where they called for the resignation of regional treasury chief José Manuel Vela over budget cuts being planned there.
The cash-strapped Valencia region has also announced significant cuts in health, education and the public workforce.