Eight out of Eleven domestic flights at Alicante with budget airlines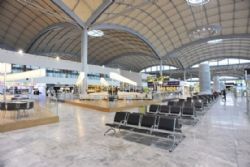 Recent figures released by AENA have shown how low-cost carriers are currently monopolising the domestic trafficc at Alicante's El Altet airport, with 8 out of the 11 domestic routes to Alicante being provided by a low cost carrier by the end of 2011.
Ryanair's Alicante-Barajas route leads the way, with their Santiago route coming in fifth place. The Airline's routes to Zaragoza, Santander and Valladolod took 8th, 10th and 11th palces respectively, despite a number of these routes being cut towards the end of the year.
Air Berlin's route to Mallorca - the only route to the Islands from Alicante - remained popular, as did Vueling's route to BArcelona.
Almost every one of these routes increased their passenger numbers in 2011 - significantly the route to Seville which grew to 108'000 - a 45% increase on 2010.
Routes to Santiago de Compostela grew to reach 78'000 passengers, and the route to Barcelona increased by 12% - 38'000 in absolute numbers.
However, desite being the most popular route, Alicante-Madrid fell by 16%, reprsenting 125'000 fewer passengers for 2010.
The AVE high speed rail network continues to be the biggest threat to domestic flights, which has largely influenced the decline of popularity in routes between El Altet and the capital. Similarly, the difficulties encountered on the Mediterranean corridor, resulting in amny delays, has ensured that the route to Barcelona remains popular.