Spain faces key debt test after downgrade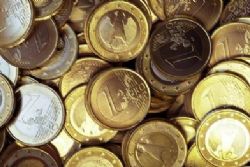 Spain will test market appetite for its short-term debt on Tuesday for the first time since a sovereign rating downgrade, and it faces a far bigger hurdle on Thursday at an auction of bonds with maturities of up to 10 years.
Despite the two-notch cut by Standard & Poor's, the Treasury is tipped to draw solid demand at both auctions, benefiting from support from banks flush with European Central Bank cash and market perceptions the new government is serious about addressing the country's economic woes.
Yields at Tuesday's sale of up to 5 billion euros of 12- and 18-month bills are expected to fall close to two percentage points from the last auction in mid-December. That sale took place before the European Central Bank fed commercial lenders with nearly half a trillion euros of cheap three-year money.
The ECB tender was a factor in a strong sale last week in which Spain perked up debt markets by selling 10 billion euros of bonds, twice the amount it targeted, at falling yields.
This Thursday it will look to place 3.5-4.5 billion euros of paper due in 2016, 2019 and 2022, the latter two maturities well beyond the maturity of the ECB loans.
Spanish benchmark bond yields were stable on Monday, with ten-year paper at around 5.2% as traders said bond purchases by the ECB were offsetting pressure from Friday's salvo of S&P downgrades and the rising risk of an unruly Greek default.
Analysts said they expected the ten-year yield on Thursday's sale at around 5.5% around 1.5 percentage points down from an equivalent auction in November.
"The biggest driver behind the fall in yields is the ECB liquidity actions. But the ten-year auction will provide a proper litmus test for Spanish debt," said David Schnautz, analyst at Commerzbank.
He said government action to get to grips with the budget deficit after a steep overshoot in 2011, and its decision to raise taxes despite pre-election promises not to, had contributed to markets' improved stance towards Spain.
Markets speculated that two or three large Spanish banks had made large bids, in the range of 1-2 billion euros, for the last week's bonds, seeking to capitalise on the relatively high yield offered compared to the ECB funds they picked up in December.
Analysts say clear plans to end the euro zone crisis must be found, though a further tender of three-year ECB funds next month should continue to support the debt markets in the nearer term.
"The ECB's liquidity is playing an important role...It looks like banks will keep buying in a huge way before the February auction," said Nicolas Lopez, head of research at M&G Valores.
FALLING YIELDS
Analysts expect the yield on Tuesday's T-bills to fall by close to two percentage points, in line with their current secondary market trading level.
Estefania Ponte at Cortal Consors brokerage, estimated the 12-month bill will sell for around 2.30%, and the 18-month paper for 2.35%.
Yields on the bond would also drop, she said.
The 2016 bond with a 4.25 percent coupon, sold last week, would yield a touch more this time at around 4.0%.
The yield on the 2019 bond with a 4.60% coupon was forecast to come in around 4.6-4.7%, down from the 5.110% when it was last sold on October 20.
The biggest mover of the three will fall to the ten-year bond. This bond saw a record high yield of 6.975% at auction on November 17, testing the 7% mark that analysts cite as unsustainable for the Treasury to fund over a prolonged period.
On Thursday its yield will probably be around 5.5 to 5.6%, Ponte said, though others cautioned that volatile markets meant the picture could yet before Thursday.