Costa Concordia disaster may have 'slight impact' on Spanish tourism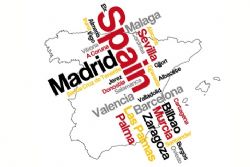 Exceltur, the Spanish tourism lobby, has predicted how tourism is expected to lead the way in the economic recovery for 2012, but expressed concerns over the impact that the weekend's Costa Concordia cruise ship disaster may have on the sector as a whole.
Fernando Conte, Chairman of Exceltur, gave a press conference to give imdustry projections for the year, "We will have to wait to see the impact of the Italian cruiser accident on passenger demand over the coming months," he commented. Barcelona in particular is a major port of call for Mediterranean cruises, but Conte said there are other aspects of the city's tourist industry that are economically far more important.
Exceltur predicted the GDP of the tourism sector this year would grow 0.2% after an increase of 2.6% in 2011 when the industry generated an additional 2.678 billion euros and created 17,000 new jobs.
Results from last year were better than initially expected, thanks mainly to the unflux of visitors who had originally planned to holiday in North Africa, but had subsequently cancelled their trip due to the social and political disruption as a result of the 'Arab Spring'.
The results of a survey undertaken by the Post Office Travel Money, also reminded Holidaymakers how Spain represents the best value for money in Europe . The study investigated the cost of a number of products commonly bought by Holiday makers in 40 destinations around the World, finding that Spain came number 2 on the list.
Conte expects that the Industry should continue to benefit from lingering concerns about destinations in the eastern Mediterranean, although on a much smaller scale, with domestic tourism remaining slow due to the widening effects of the economic crisis as Spain is predicted to slump back into recession.
However, Exceltur remain optimistic about continuing to attract visitors from non-EU countries such as Russia, India and certain Scanadanavian countries. The weakness of the euro against the dollar could also favor demand from North and Latin American visitors.
More than 60% of the sector expects to see a slight increase in their revenues this year.