EU to challenge airlines 'one peice of hand luggage' rule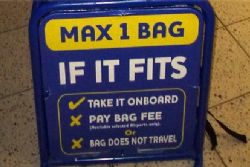 The strict 'one peice of handluggage' rule imposed by Ryanair and other budget airlines may be about to be challenged by the European Commission.
Spain first challenged the rule in Summer 2010, branding it illegal, but other countries has failed to follow suit and as such many airlines continue to permit passengers to carry just one peice of handluggage per person.
Perhaps the biggest victim of this rule is the airports themselves, who have seen retail sales on Duty Free and other products fall by an average of 40% - rising to 70% in some smaller, regional airports - since the polict was enforced.
Worse still, most airports contribute as much as 32% of their profits from retail sales towards paying the subsidies for these very same airlines to maintain routes to the airport.
It seems that this can become somewhat of a vicious circle : The Airlines are now rigorously enforcing the ruke with financial penalities. As such fewer passengers are buying from the retail outlets at these airports, and as such the airports have fewer funds with which to subsidise the airlines. This often results in one of three things : An increase in ticket prices being passed over to the passenger; A much more rigourously enforced luggage policy to gain further financial revenue from penalities, or the route being discontinued due to a decrease in subsidies being paid to the airline.
A European Transport Committee meeting is due to take place next week, where Euro-MP Philip Bradbourn is due to forward a motion challenging such a practice. If the motion is upheld, the European Parliament may ask the European Commission to put an end to this.