Two of Top Ten World Airports in Spain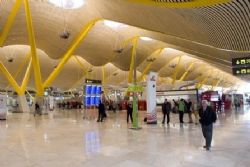 USAtoday have reported how two of the top ten airports throughout the world are to be found in Spain.
As well as being the country to feature in the top ten with more than one airporty, the country did not feature in the top ten world's worst airports list.
The Newspaper, who cited a study undertaken by Frommers.com, went on to say how each airport was judged on a number of criteria including cleanliness, available services, punctuality of departures, navigation and the ease of getting to and from a city's center.
The news is sure to be warmly received by the Spanish Government, who are currently considering how to proceed with privatising their stake in AENA - the Spanish Airports Authority.
According to Frommers.com the World's Top Ten airports are :
1. Jeddah (Saudi Arabia) Hajj Terminal
2. Leifur Eriksson Air Terminal, Keflavik, Iceland
3. Seoul (South Korea) Incheon Airport
4. Wellington (New Zealand) "Rock" Terminal
5. New York JFK Airport Terminal 5
6. Singapore Changi International Airport Terminal 3
7. Marrakech (Morocco) Menara Airport Terminal 1
8. Madrid (Spain) Barajas Terminal 4
9. Carrasco International Airport, Montevideo, Uruguay
10. Bilbao (Spain) Airport Main Terminal