Spain signals trio of economic reforms by mid-Feb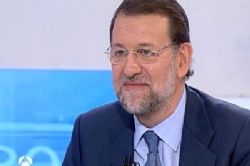 Spain's government expects to draft labor, budget stability, and financial sector reforms by mid-February, Prime Minister Mariano Rajoy said on Tuesday, as the country pursues efforts to reassure markets it is in control of its damaged finances.
He also held out the promise of financial help, under strict conditions, for the country's heavily-indebted autonomous regions, held partly responsible for Spain missing its public deficit targets in 2011.
Rajoy said the three reforms would be presented by February 10, by which time the cabinet will have met three more times, and his comments at a news conference were in line with the expected timetable.
Elected in a landslide win in November, the government has pledged to move fast to stimulate work and growth in a country suffering the highest unemployment rate in the EU of well above 20%.
Rajoy also aims to ensure the country's 17 autonomous regions don't overshoot deficit targets and that the country's banks - heavily exposed to a moribund property sector - improve their liquidity positions.
Spain has worked to distance itself from Italy, the major euro zone economy at the centre of investor concerns.
But it still risks becoming a victim of the debt crisis should it not hit tough deficit-reduction targets and must try to stimulate growth in an economy on the brink of recession.
"In the next two or three weeks we will present the budget reform law. We'll see that between the end of January and the first two cabinet meetings in February, along with the restructuring of the financial system, and the labor reform," Rajoy said after meeting EU Council President Herman Van Rompuy.
The government announced on Friday that the regions would be forced to stick to agreed spending limits, and they would face penalties if they repeatedly missed their fiscal targets.
But Rajoy said on Tuesday Madrid would step in to help regions facing financing difficulties, which in return would need to commit to tough austerity measures.
Madrid partly blames the regions for overspending in 2011 that saw the country miss its overall public deficit target of 6% of economic output by around 2%.
Rajoy's government has also backed more bank mergers as the way forward to help some banks to improve their capital positions, and wants banks to improve transparency over the damaged property portfolios they hold.
The government has said it will not bail out the banks, but Economy Minister Luis de Guindos has estimated they will need up to 50 billion euros of extra capital to cover soured property assets.
The PM said austerity measures were absolutely necessary, and along with structural reforms would help to stimulate growth even if not immediately.