AENA win environmental and service awards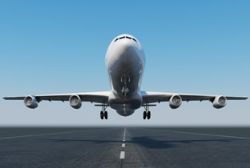 The Spanish Airports Authority - AENA - have attended the FITUR tourism fair in Madrid, where they have presented a number of their new projects and of measures that they will be introducing to support the relationship between their airports and the environment.
AENA announced through a statement that they will be presenting their new projects in conjunction with the 'Single European Sky' initiative in mind, and will also be showing the efficiency of their network since the privatisation of 13 of their airport control towers.
With regards to the environment, AENA will show visitors how they have been monitoring noise levels across flight paths, together with how they have managed to cut almost of 21,000 tons of CO2 emissions and save 3.2 million in consumer fuel in 2011.
One of the ways that these savings have been achieved is by the promotion of the "green landings" maneuvers, which allow the aircraft to perform a continuous descent approach, thereby reducing 25% CO2 emissions, saving 25% fuel and also significantly reducing noise levels on their approach.
During the FITUR fair, AENA were also awarded accreditations for energy efficiency for Zaragoza and Lanzarote airports, and further award for good service for Madrid-Barajas airport.
Only yesterday it was reported how 2 of the 10 best airports in the world are to be found in Spain - the only country to appear twice in the list.