Reus airport sees increase in reduced mobility assistance requests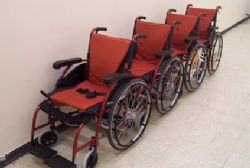 Travellers frequenting Taragona's Reus airport should be encouraged by positive news in today's press.
In a Press Release, AENA have confirmed that the airport provided special assistance to those with reduced mobilty, for 7'200 passengers in 2011 - an 8% increase on the year previously.
Recipients were asked to rate the service that received out of 5, with the average of all results coming in at 4.21. 100% of passengers using the service rated it as 'Good' or 'Very Good'.
The reduced mobility service includes assistance checking and retreiving luggage, passing through the security controls and boarding the aircraft and can be ordered up to 48 hours in advance of the flight by calling the airport on (0034) 902 404 704.Reus airport looked set to end the year on a low, following news in October that Ryanair would be cancelling a number of routes from the airport over the winter months, with a questionmark hanging over their return with the summer scheules.
However, shortly before Christmas Ryanair managed to strike a deal with the Generalitat of Catalonia to secure the maintenance of flights from the airport for a further five years.