Spain favours Bankia, CaixaBank merger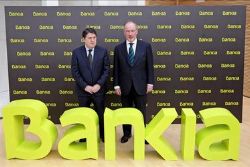 Spain is pushing for former savings banks Bankia and CaixaBank to merge as it tries to fix the country's ailing financial sector without pouring in more public money, sources said.
The government wants a strong bank such as CaixaBank to step in to absorb Bankia's toxic real estate assets but will struggle to find funds to provide an incentive for the deal, banking and political sources said.
"This is being discussed, because it's either merging or having a bad bank, and the government has said it doesn't want a bad bank," said one political source.
The government has rejected hiving off banks' billions of euros of unsellable property assets and rotten loans to property developers in a "bad bank" at state level which would push up public sector debt.
Madrid-based Bankia and Barcelona-based CaixaBank together make up around 18% of the country's banking system and would create a lender to rival Spain's two biggest banks - Santander and BBVA.
However, Santander and BBVA have spent years diversifying away from Spain and a sick economy on the brink of its second recession in three years, whereas the majority of Bankia and CaixaBank's business is domestic.
"A deal between CaixaBank and Bankia could hugely advance the cleaning up and restructuring of the sector," said one banking sector source.
The major obstacle would be finding state funds to compensate CaixaBank - one of Spain's strongest banks - to merge with Bankia, sources said.
"The government couldn't force CaixaBank to take over Bankia, but it could incentivise it," said one Spanish banker. "I believe they are carrying out an analysis to see if it's viable."
CAJAS PROBLEM NOT SOLVED
Spain's bank Deposit Guarantee Fund, an instrument funded by contributions from banks, was nearly all used up to bail out failed savings bank CAM and provide a guarantee for future losses for buyer Sabadell in December.
Economy Minister Luis De Guindos said on Tuesday a new round of consolidation amongst Spanish banks was extremely important, but declined to comment on specific examples.
A CaixaBank spokesman declined to comment on any potential link-up with Bankia, and a Bankia spokesman insisted the bank's focus was on remaining independent and the integration of its seven constituent regional banks.
Spain embarked on a wide-ranging restructuring of its banking sector in 2010 and 2011, slashing the number of its unlisted savings banks, or 'cajas' and forcing them to search for private capital to patch up capital shortfalls.
But the sale of the regional banks attracted little interest and failed to address the problem of the 176 billion euros of troubled exposure to real estate on banks' books.
"The cajas problem has not been solved. They've just changed the labels," said Javier Diaz Gimenez, economist at IESE Business School. "There should now be a round of consolidation where institutions truly disappear."
Sector giant Caja Madrid combined with six smaller cajas to form Bankia's parent group BFA, which has one of the highest exposures to real estate with 41 billion euros in developer loans and 11 billion euros in foreclosed property on its books.
The lender, led by former International Monetary Fund head Rodrigo Rato, has already received 4.5 billion euros of public money from the state-backed bank restructuring fund, the FROB.
HELP FROM EUROPE?
Another possibility is for the European Union to contribute directly to the Deposit Guarantee Fund, through the bail-out fund the European Financial Stability Facility (EFSF), a legal source said.
"The formula the government is looking for is that there should be some kind of loan or financing to the Deposit Guarantee Fund from one of the European funds to complete restructuring," he said.
"They want the clean-up to be quick and not to have any effect on the public accounts. The only way that's possible is if it comes from the sector itself or a loan or guarantee from a European fund," the source added.
Spain is desperately trying to reduce its state deficit, already around 2 percentage points above its 6% target for this year. Bailing out banks could bump up the country's public debt to dangerous levels.
The Irish bank rescue quadrupled Ireland's debt-to-gross domestic product (GDP) ratio.
Any merger would also have the politically unsavoury consequence of thousands of job losses, adding to Spain's 23% unemployment rate - the highest in the EU.
"Any deal would involve tough cutbacks," said the head of one Bankia branch, who asked to remain anonymous. "Even without a merger Bankia and CaixaBank both need to shut branches."
Bankia, with a market capitalisation of 6.3 billion euros, has 3,362 branches. CaixaBank, whose market value is 14.5 billion euros, has over 5,000 branches, Spain's largest network.
Together, the banks employ nearly 50,000 people.