Santander becomes fastest growing airport in Spain for 2011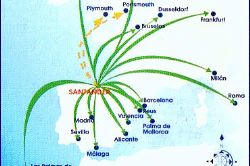 Latest figures released by AENA - the Spanish Airports Authority - have shown how Santander's Parayas airport has overtaken Barcelona's El Prat airport to become the fastest growing in the whole country.
Passenger numbers at Parayas topped the 1 Million mark during 2011, with total growth for the year exceeding 21%, compared to the total figure across the AENA network of airports recording just 6% growth. By comparison, El Prat saw a 17% overall growth for 2011.
A Whopping 38% of this growth being due to Ryanair alone - even though routes to Alicante and Reus were dropped completely last year.
Despite not being a base for the airline*, Ryanair operated a total of 8 Domestic and 7 International routes from the airport on their summer 2011 schedules, and are expected to do likewise for 2012.**
According to AENA's figures, the airport handled just 180'000 passengers in 1995, but by the end of last the number had grown almost ten-fold to reach 1.12 million.
As would be expected from a regional airport away from the busy costas popular with holidaymakers, the majority of traffic is centred around supplying routes to the major commercial cities of Madrid and Barcelona, where those looking to travel on to other destinations can make connecting flights. Traffic to these 2 airports alone accounted for 45% of all passengers.
* Ryanair Bases in Spain : Alicante; Lanzarote; Barcelona; Girona; Gran Canaria; Madrid; Palma; Reus; Seville; Tenerife; Valencia.
** Ryanair Routes from Santander : Barcelona; Brussels, Dublin; Frankfurt; Gran Canaria; Lanzarote; London-Stansted; Madrid; Malaga; Milan; Palma; Paris; Rome; Seville, Tenerife-Sur